Nothing Can Possibly Go Wrong – A Comic You Must Read
From the About page of Nothing Can Possibly Go Wrong, a new webcomic by Prudence Shen and Faith Erin Hicks:
Nothing Can Possibly Go Wrong is a graphic novel collaboration between author, Prudence Shen, and comic artist, Faith Erin Hicks. The comic will be updated for free to read here at nothingcanpossiblygowrong.com, leading up to the release of the print edition coming May 2013 from First Second Books!

—

You wouldn't expect Nate and Charlie to be friends. Charlie's the laid-back captain of the basketball team, and Nate is the neurotic, scheming president of the robotics club. But they are friends, however unlikely — until Nate declares war on the cheerleaders, and the cheerleaders retaliate by making Charlie their figure-head in the ugliest class election campaign the school as ever seen. At stake? Student group funding that will either cover a robotics competition or new cheerleading uniforms — but not both.

Bad sportsmanship? Sure. Chainsaws? Why not! Nothing can possibly go wrong.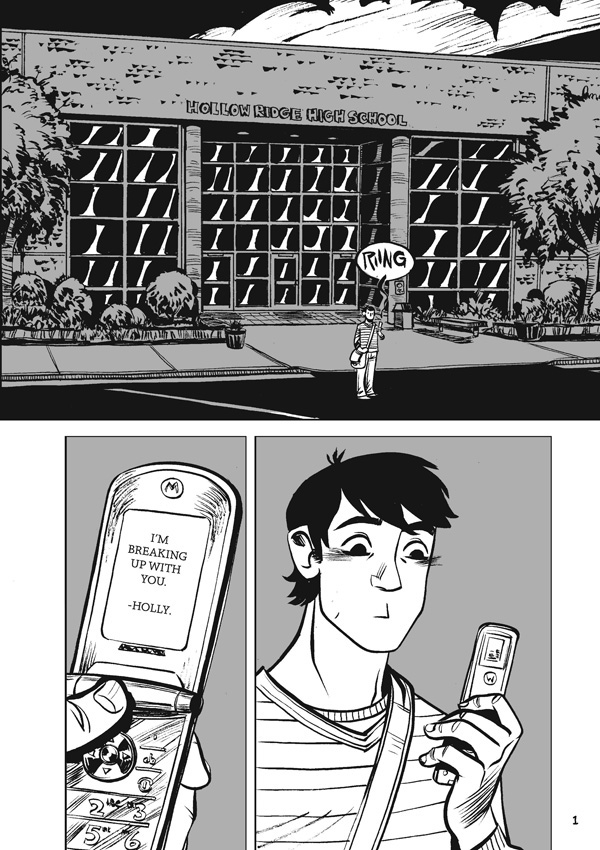 Above is the first page of Nothing Can Possibly Go Wrong. I dare you to try to tell me that doesn't make you want to read more.
I've known about Faith Erin Hicks' work for a while now, having first heard about her excellent webcomic Friends With Boys a while back via boing boing. Recently, another of her works, The Adventures of Superhero Girl had gone into print. What had somehow managed to escape my attention, however, was that she has another webcomic, Nothing Can Possibly Go Wrong, which she is working on and serializing at this very moment.
How I discovered Nothing Can Possibly Go Wrong, is kind of a funny story. I was on the aforementioned boing boing and saw mention that they were hosting a new podcast: Tell Me Something I Don't Know. Pretty cool, I though. I enjoy podcasts. Then I saw mention of Faith Erin Hicks, also cool. Then I saw that my college roomate, Jasen Lex was one of the hosts of said podcast. Sold! Note: listen to the podcast, it's quite good.
So, back to Nothing Can Possibly Go Wrong. Having first heard of it on Monday, I went over to check it out and managed to blow through all of the 220-ish pages in one sitting. It's that good. The art is fantastic and unique. The characters are funny and the story is just enjoyable.
What I want you to do is go over there and give it a try. I bet you'll be hooked too. Then, go ahead and pre-order Nothing Can Possibly Go Wrong
. My only regret is I can't read the entire thing RIGHT NOW.